Man City Weekly Update – Dunne, Fernandes, Robinho, Tévez, Džeko, Umbro
It is often said that a week is a long time in football, and this was certainly the case with Manchester City during the past seven days or so. There have been rumours galore, with gossip-mongers creating more havoc than Joey Barton at a Christmas party. Influential captain Richard Dunne, a four time winner of the club's player of the year award, has been linked with a £5 million move to either Stoke or Tottenham, whilst Brazilian superstar Robinho, only signed last summer from Real Madrid, has revealed that it would be his dream to play for their arch rivals Barcelona. To my utter delight, Swiss international Gelson Fernandes has also been linked with a transfer away from Eastlands, with Fulham, Bolton and Portsmouth all apparently chasing the only footballer in the world capable of making Darius Vassell look world-class.
It has however, not been all about players departing, rather, the majority of rumours have involved incoming transfers to the Blues. The obvious names have been branded about, with City apparently chasing Franck Ribéry, Carlos Tévez and Samuel Eto'o, but there has been one player who has been consistently linked with the Blues, Wolfsberg striker, Edin Džeko. Everton defender Joleon Lescott has also been linked with a big money move to Eastlands, possibly as a replacement for Richard Dunne. In addition to all the transfer activity at the club, the Citizens recently announced a new, long-term shirt sponsorship deal with Umbro, and that will be explained in greater detail later.

Mark Hughes will to bring in quality to City, and to offload players at the right time
As previously stated, Irish international defender and food-lover Richard Dunne has been linked with a transfer to another club, with Stoke and Tottenham Hotspur named as possible destinations. Although, as of now, there has been nothing official declared by any club, it would seem that there is some substance to the rumour, with Mark Hughes reportedly keen to sign Everton centre-back Joleon Lescott. Dunne, scorer of Republic of Ireland's goal against Bulgaria at the weekend, had one of his poorest seasons in a City shirt, but if the popular Irishman were to leave, it would, in my opinion, weaken the City squad.
As one of only a select few long-serving players at the club, Dunne's loyalty ought to be rewarded and even if he would not be an automatic first choice, his experience and leadership would prove invaluable in the dressing room. There is a possibility however that Dunne could leave, and if this were to happen, then my replacement would be Ricardo Carvalho, who recently stated his desire to leave Chelsea in search for regular first team football.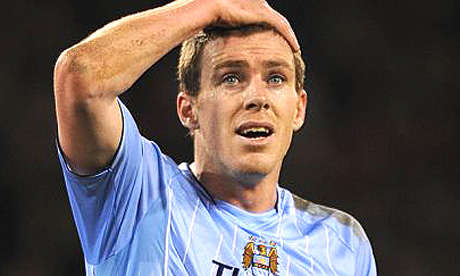 Richard Dunne may be on his way to Stoke or Spurs
Continuing on the theme of departures, another person linked with a transfer away from the club is Swiss midfielder Gelson Fernandes, whose agent, Marcel Schmid, has revealed that there are "several" clubs interested in the services of his client. Any regular readers of this blog will know that Gelson is not exactly flavour of the month with me, because despite his unlimited amount of energy, similar to that of the Duracell bunny, he is unable to pass the ball, make or tackle or do anything useful. It therefore astounds me that any club would want Gelson in their side, but you won't find me complaining. Bolton, Fulham and Portsmouth are all mooted to have interest in the holding midfielder, and it would please me no end if they were to take this monstrosity of a footballer away from my beloved club.
In worrying news, Brazilian attacker Robinho has increased speculation about his future at City after he declared that he would be interested in a move to Manchester United conquerors, Barcelona. Despite previously playing for their arch rivals Real Madrid before he joined City, Robinho nevertheless praised the Catalan side, and said,"the only thing I can say is that Barcelona are a great team and everybody would love to play for them." Not one to shy away from the media eye, Robinho has often infuriated the City faithful for his actions, having previously stormed off to Brazil during a winter training camp. On his day, the Premier League's most expensive player is a sight to behold, but despite leading the Blues' goalscoring charts this season, he has regularly attracted heavy criticism for his lack of effort on City's travels.

Robinho would not be the most popular player if he were to sign for Barcelona, having previously represented Real Madrid
As expected, the talk has not all been about players leaving, rather, about what performers will be arriving at the City of Manchester Stadium. Naturally, the calibre of these players has been very high, with luminaries such as Carlos Tévez, Samuel Eto'o and Franck Ribéry all among the names mentioned, but it is the first of that triumvirate who has attracted the majority of media interest. As long as the Argentine's future at Old Trafford remains in doubt, with United unwilling to pay the money required to gain Tévez's services, City will always be linked as a possible destination. As one of only a few clubs able to pay the £25 million fee quoted, the Blues are in prime position to land the forward, with their bargaining position strengthened by the fact that Tévez could stay in the same house as he lives in now. Add this to the guarantee that the Argentinean would be a certain starter for the club, whereas at Liverpool for instance this remains in doubt, and it becomes clear that City are in with a real chance of pulling off a spectacular coup.
Another striker linked with City is Edin Džeko, scorer of 26 goals for Wolfsburg this season. At well over six foot and powerfully built, Džeko, a Bosnia and Herzegovina international, has all the credentials to be a top signing and would certainly add some much-needed height to City's Lilliputian midfield and attack. Blues boss Mark Hughes has a proven record of bringing in relatively unknown strikers to a club, having signed Roque Santa Cruz and Benni McCarthy cheaply when he was at Blackburn. City would, however, face competition from Arsenal for Džeko, with the Gunners seemingly looking to replace Inter Milan bound Emanuel Adebayor.

Tévez and Džeko could line up together next season for City
Finally this week, there is the news that City have signed a long-term partnership with sports manufacturing company Umbro. After several years with Thomas Cook, a change was needed, and a ten year deal with Umbro should provide that. This means that yet again, there will be a new shirt for the season, and although no official pictures have been released, many websites have displayed what they think is the new shirt. However, by and large, these are all incorrect replicas, but I think that I have found images for the three new shirts, shown below.
 
From left to right: the home kit, the away strip, which is my personal favourite, and finally, the third kit
Any feedback on this article would be greatly appreciated. Thanks for reading.