Superman displays Superbia in Proelia!
Stephen Ireland has come a long way from his Manchester City debut when he came on for Joey Barton during a 1-0 loss against Bolton in September 2005. He is now one of the best players at a club whose future is a combination of excitement and intensity.
What Ireland has managed to do this season is perform at a high level consistently, meaning he has completely over shadowed Brazilian Robinho and even been tipped to win the club's player of the year. His development as a player is actually unbelievable.
He now has the ability to play any pass, create space and bring the best players into the game, especially at home. These are all attributes that when Ireland started out he could not do on a consistent basis, which was why we never saw him play much at a young age. Mark Hughes, recently said "Stephen has arguably been our best player all season. He has put in some fantastic performances."
He worked so hard during the summer and came back with a real determination to show that he wanted to be part of what we are doing. He has worked exceptionally hard from day one and is reaping the benefits now and so are the club and the fans, after a very good performance in the UEFA Cup.
The scale of what Ireland has achieved this season is marked by his own comments. Ireland stands at the helm of a brand new Manchester City adventure and he lays down the roots of his success to the manager, statements that in my opinion have saved Hughes' job. Ireland said: "He is my ideal manager. He wants to be involved in every area of the club. That's important for players and for the stability of the club. In some games we are unstoppable and other games we don't even get off the bus. I don't think that's his fault. I think as far as the manager goes, he's the full package."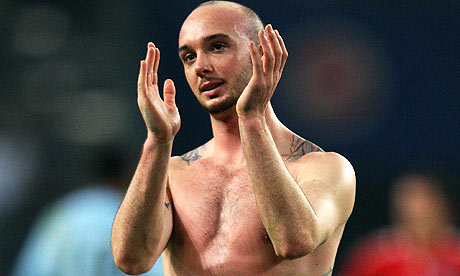 If City have European success ina  few seasons and build a foundation that will attract high quality stars to Eastlands, then Ireland is one of the players that has cemented his place in and around all the high salaries and price tags. Ireland has proven that regardless of wealth and club size in football there is still a place for nurturing youth talent and raising academy players to levels that would not have been dreamt about previously. In a season where there was such massive expectation from City fans, someone that has stuck by the club through his tough spells has emerged this season as the star. He has guaranteed himself a place in every starting 11 and whoever City manage to buy in the summer, there is no doubt that the little shiny bald head of Stephen Ireland will line up beside them in nearly every game!
Ireland look-a-like! Britney!
One thing however I could like to rant about is that fact that Superman did not win Young Players of the Year, but Ashley Young did?
He should return to International football soon though, it would be a shame for such a footballing talent to not waste the international career and caps his talent deserves, but ultimately only Ireland can make the decision.
He's been one of the best midfielders regardless of age this season. The constant linking of his employers to top quality players seems to have become a driving force behind his play. He was always a great passer of the ball, but now he makes more bursts into the box and his eye for goal has really sharpened up. His set piece deliver is consistently dangerous, his link up play is also eye catching. At only 22, he sometimes shows dazzling maturity.